Plan for the unplanned with our Comprehensive Warranty & AMC Coverage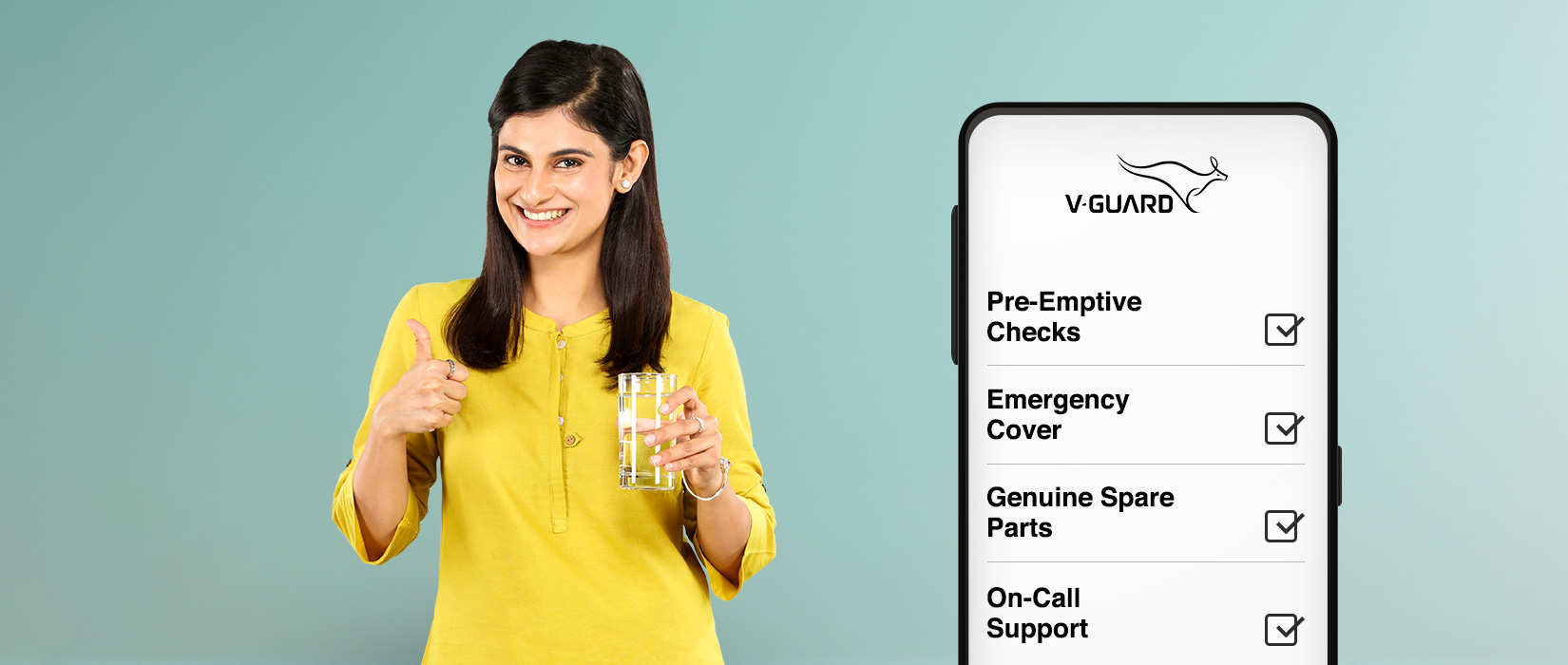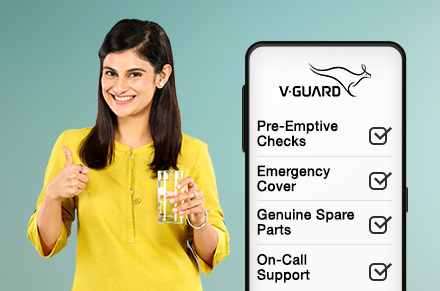 True One-Year Comprehensive Warranty
Enjoy Benefits Worth ₹ 1,400/- and Risk Coverage Up To ₹
8,695
/-*
Covers Filters, RO Membrane and Electrical Parts Worth ₹
8,345
/-*
2 Pre-Emptive Maintenance Services Worth ₹ 700/-. No need to worry about keeping a track of the service intervals.
Learn more
Free Replacement of 2 Pre-Filters Worth ₹ 700/-
Free Re-Installation
Worth ₹ 350/-
No Additional Charges for Service Visits Worth ₹ 350/- per visit (In case of any failure or repair maintenance)
On-Call
Pan-India Support
*The amount may vary as per the selected product's configuration
Most Affordable AMC Plans
AMC or Annual Maintenance Contract is a commitment to a maintenance plan that we offer to you, saving those unexpected repair expenses while minimizing the maintenance costs of the product. Upon the completion of the 1-year warranty, you can choose from a wide range of affordable AMC plans that suits you the most. Once you opt for such a plan at V-Guard, you can enjoy a range of benefits. A few of them are:
Genuine Spare Parts
Guaranteed use of only genuine parts keeps the authenticity of your water purifier intact.
Service By Experts
Get your water purifier serviced by experienced and professionally trained technicians and be assured of its best care for long-lasting performance.
Pre-Emptive Checks
Forget your maintenance worries as we proactively reach out to you for the periodic health checks of your water purifier, ensuring an uninterrupted supply of pure water to you.
Priority Support
Enjoy shorter wait times and faster answers as our customer care and service teams fast track your queries and resolve your concerns on priority.
Money-Saving Choice
Opting for AMC plans keep unwanted maintenance expenditures at bay and proves to be a wise choice.
Good for Purifier's Life
A well-serviced water purifier will always run longer, demand less maintenance and deliver a continuous supply of pure and healthy water.
Emergency Cover
Our comprehensive AMC Plans cover some of the most expensive spare parts and filters, reducing your expenditure during any such rare yet possible situation when such parts need to be replaced.
Our AMC Plans
The Most Affordable Deal So Far
Offer Applicable On All V-Guard Water Purifiers
VG Essential
| | |
| --- | --- |
| Pre-Emptive Maintenance Services    | 2 |
| | |
| --- | --- |
| Service Visits (In case of any failure or repair assistance)  | On Demand (No Additional Charge) |
| | |
| --- | --- |
| Free of Cost Replacement of Pre-Filters   | 0 |
| | |
| --- | --- |
| Other Consumable Coverage   | No |
VG Premium
| | |
| --- | --- |
| Pre-Emptive Maintenance Services    | 2 |
| | |
| --- | --- |
| Service Visits (In case of any failure or repair assistance)  | On Demand (No Additional Charge) |
| | |
| --- | --- |
| Free of Cost Replacement of Pre-Filters   | 2 |
| | |
| --- | --- |
| Components Coverage    | Unlimited |
| | |
| --- | --- |
| Other Consumable Coverage   | No |
VG Ultra
| | |
| --- | --- |
| Pre-Emptive Maintenance Services    | 2 |
| | |
| --- | --- |
| Service Visits (In case of any failure or repair assistance)  | On Demand (No Additional Charge) |
| | |
| --- | --- |
| Free of Cost Replacement of Pre-Filters   | 2 |
| | |
| --- | --- |
| Components Coverage    | Unlimited |
| | |
| --- | --- |
| RO Membrane Coverage    | Unlimited |
| | |
| --- | --- |
| Other Consumable Coverage   | Unlimited |