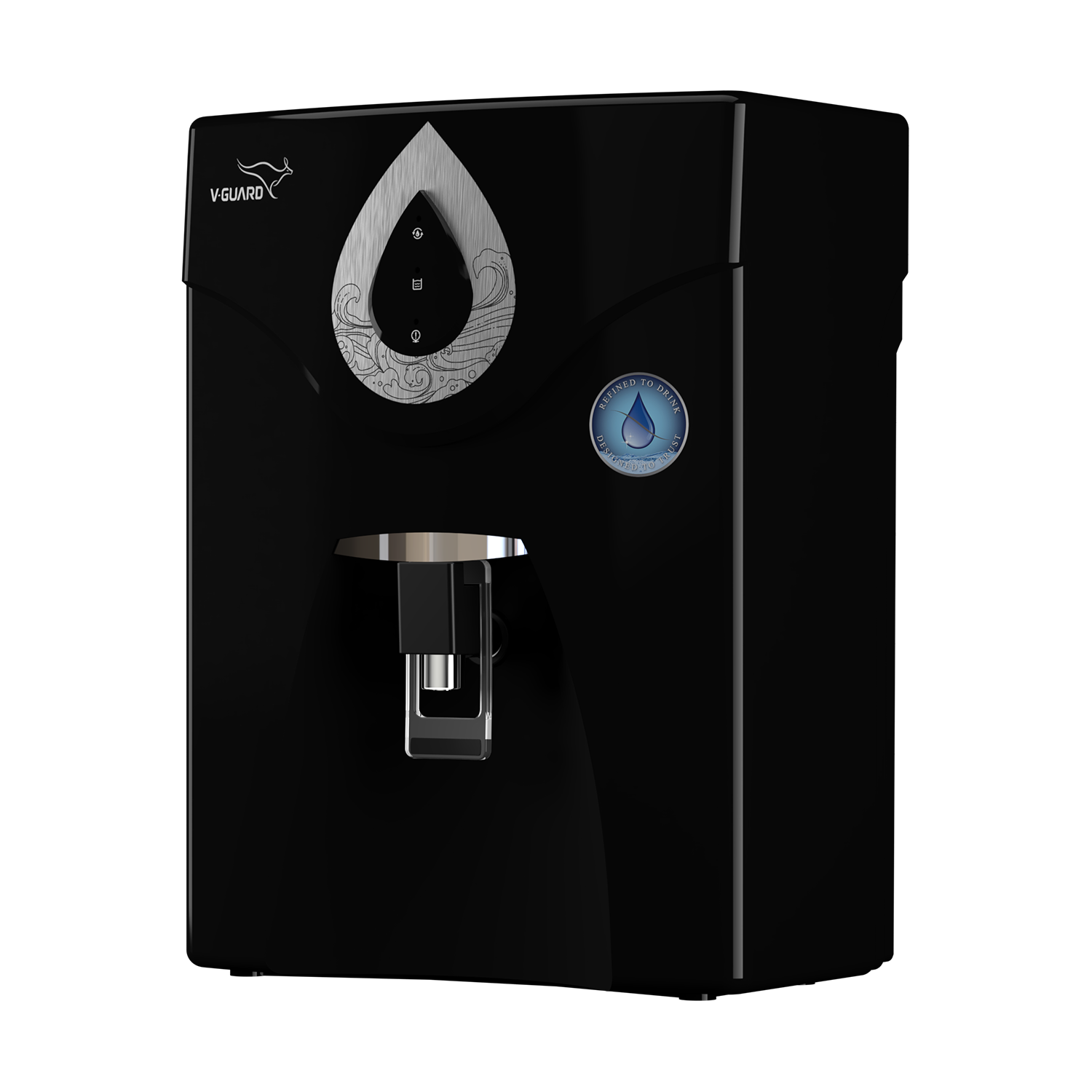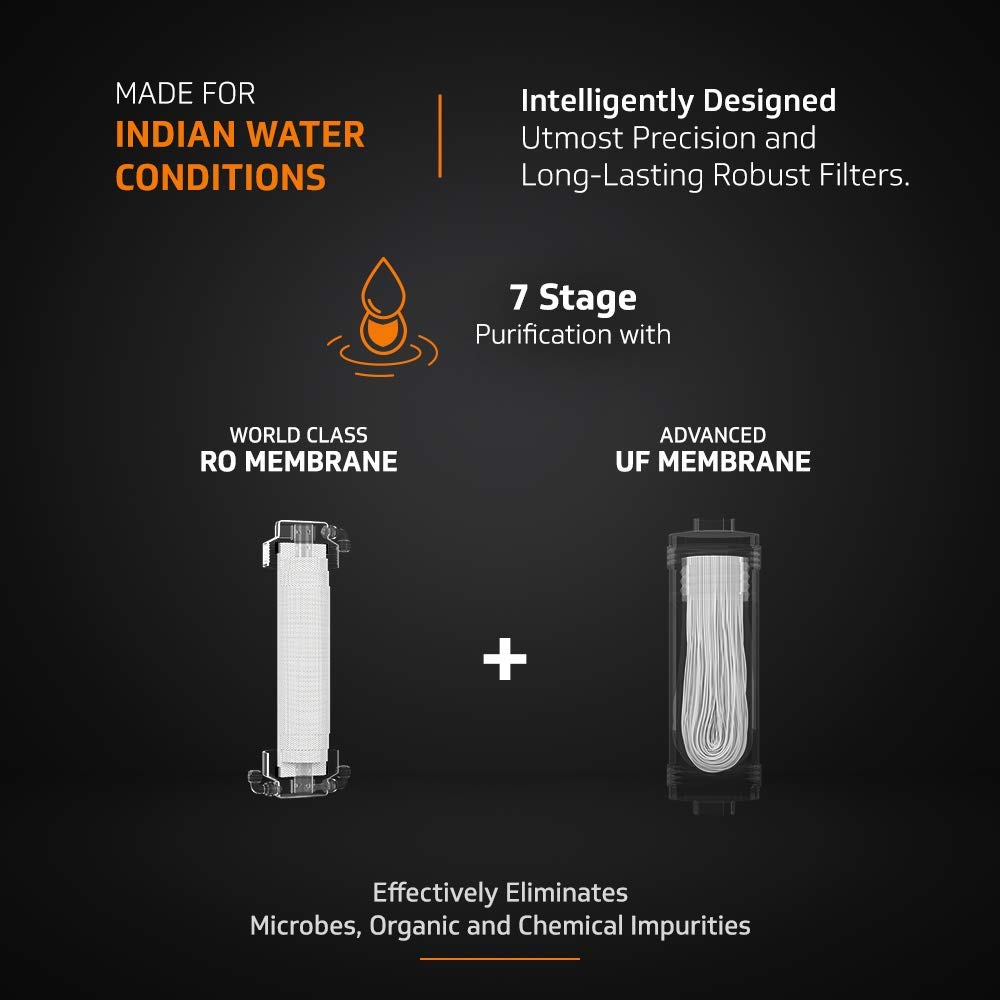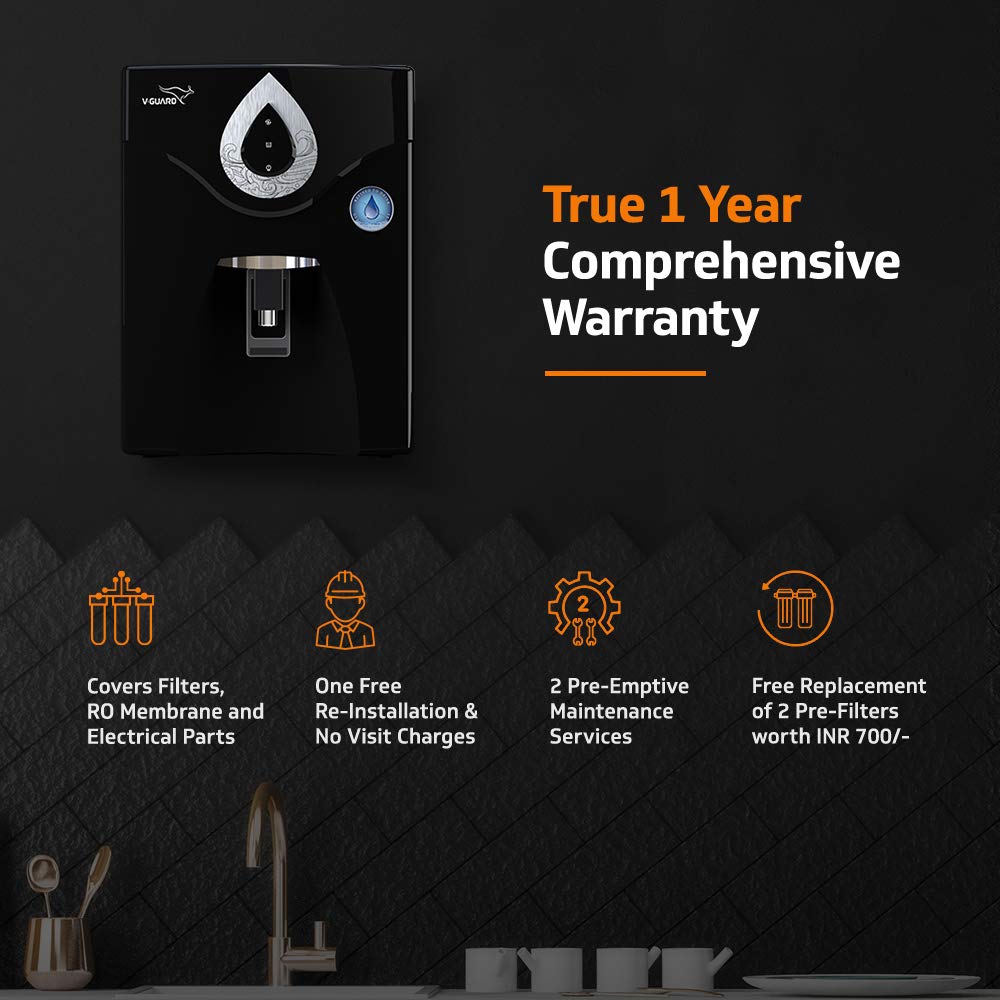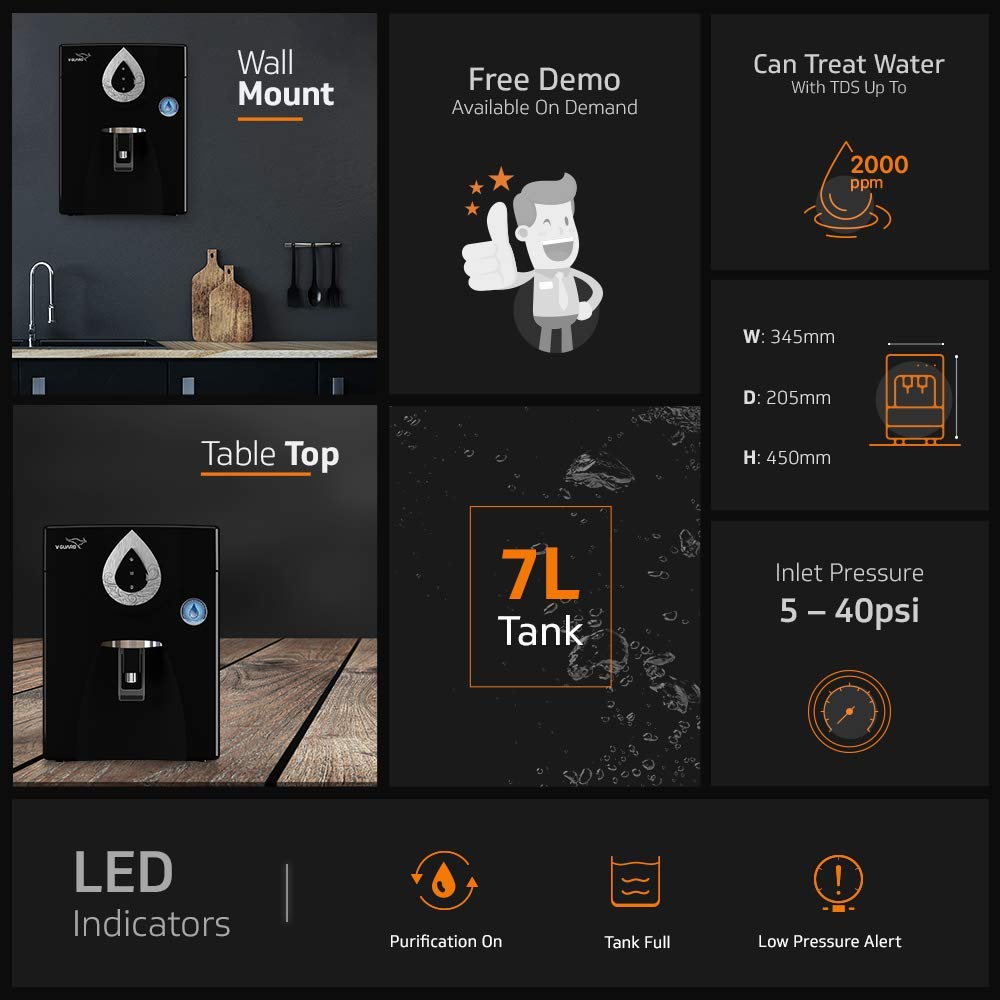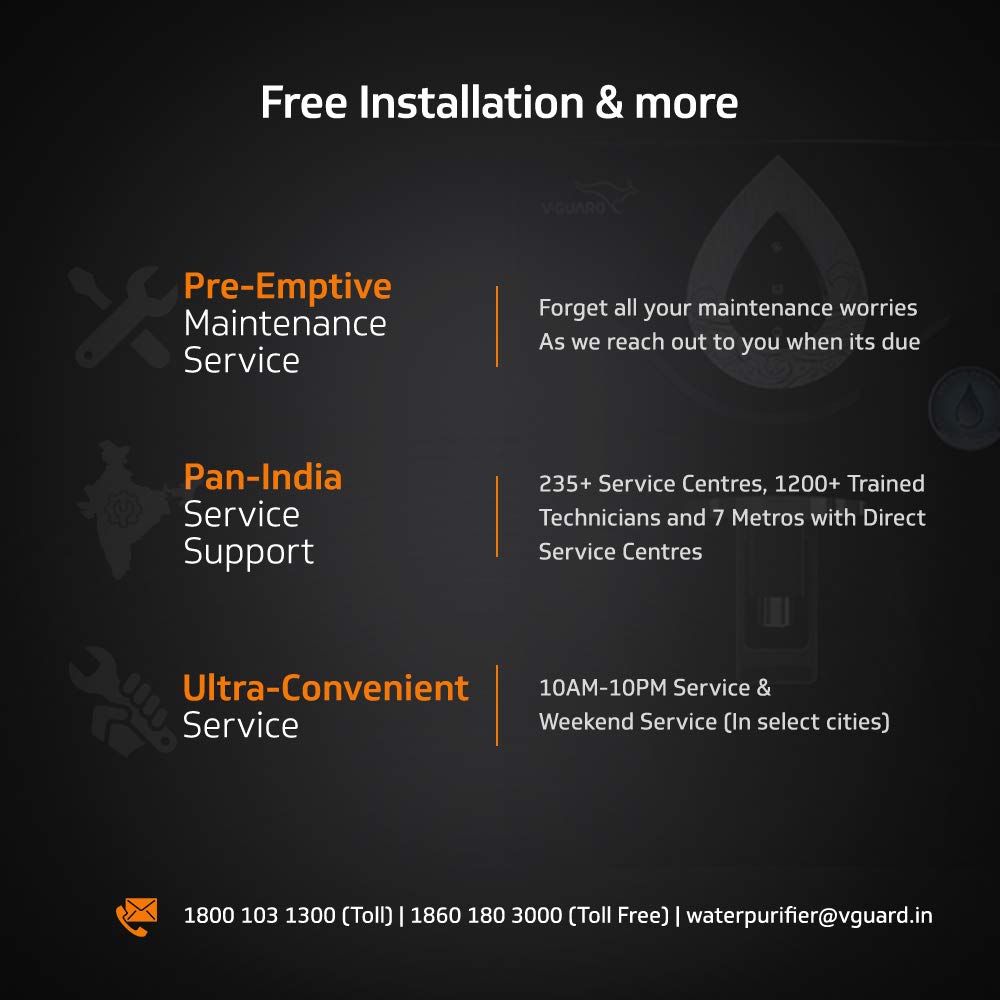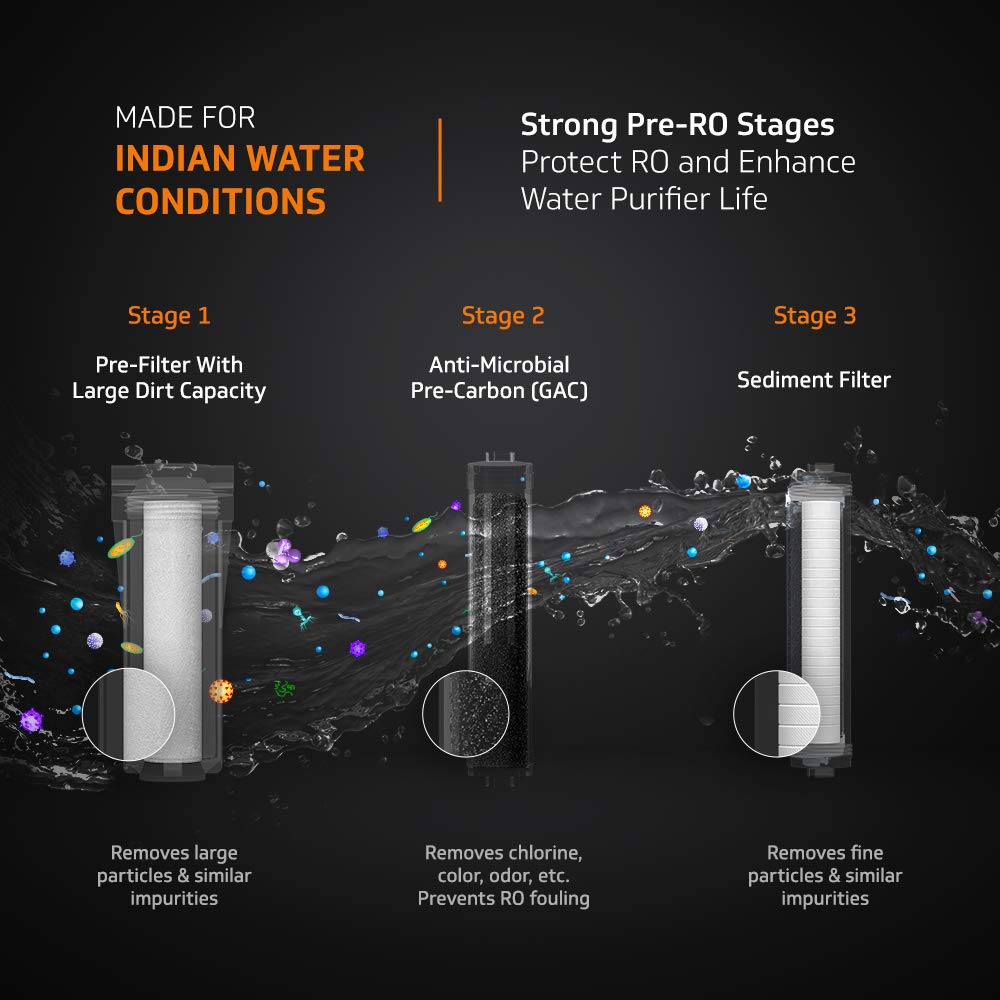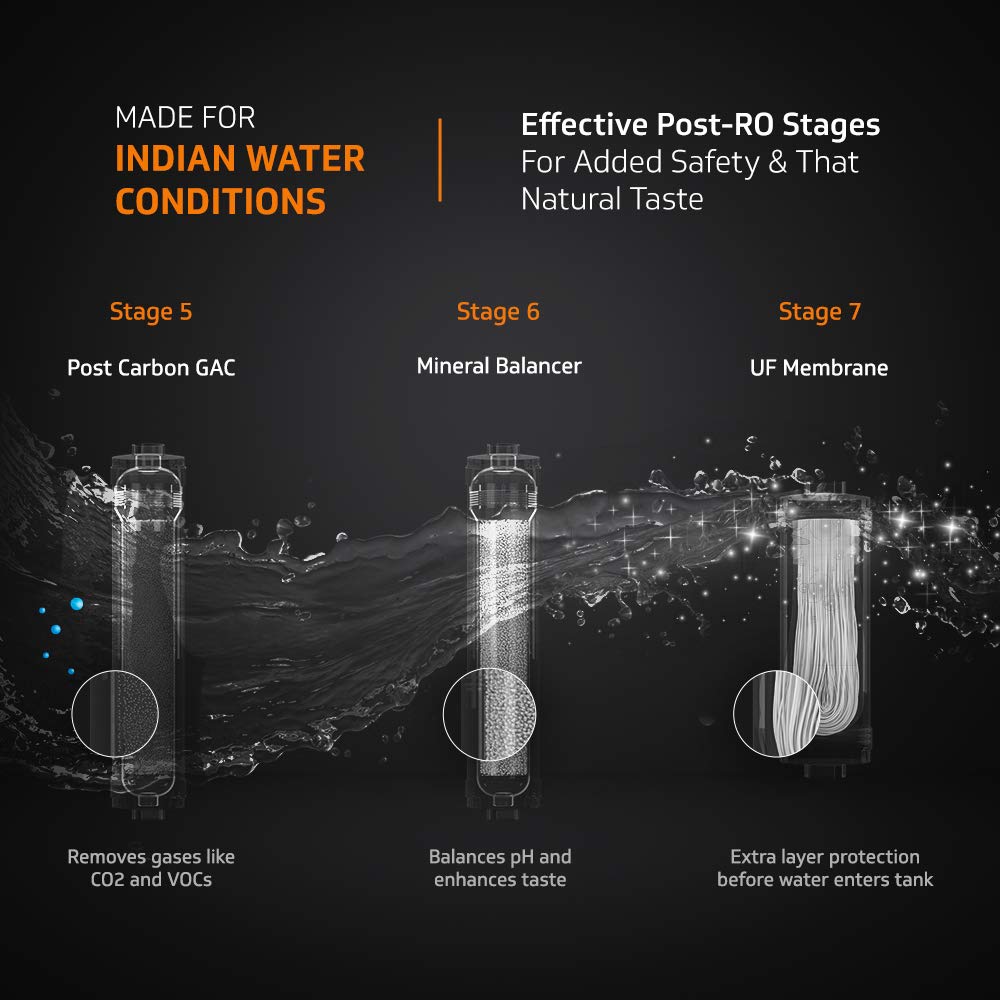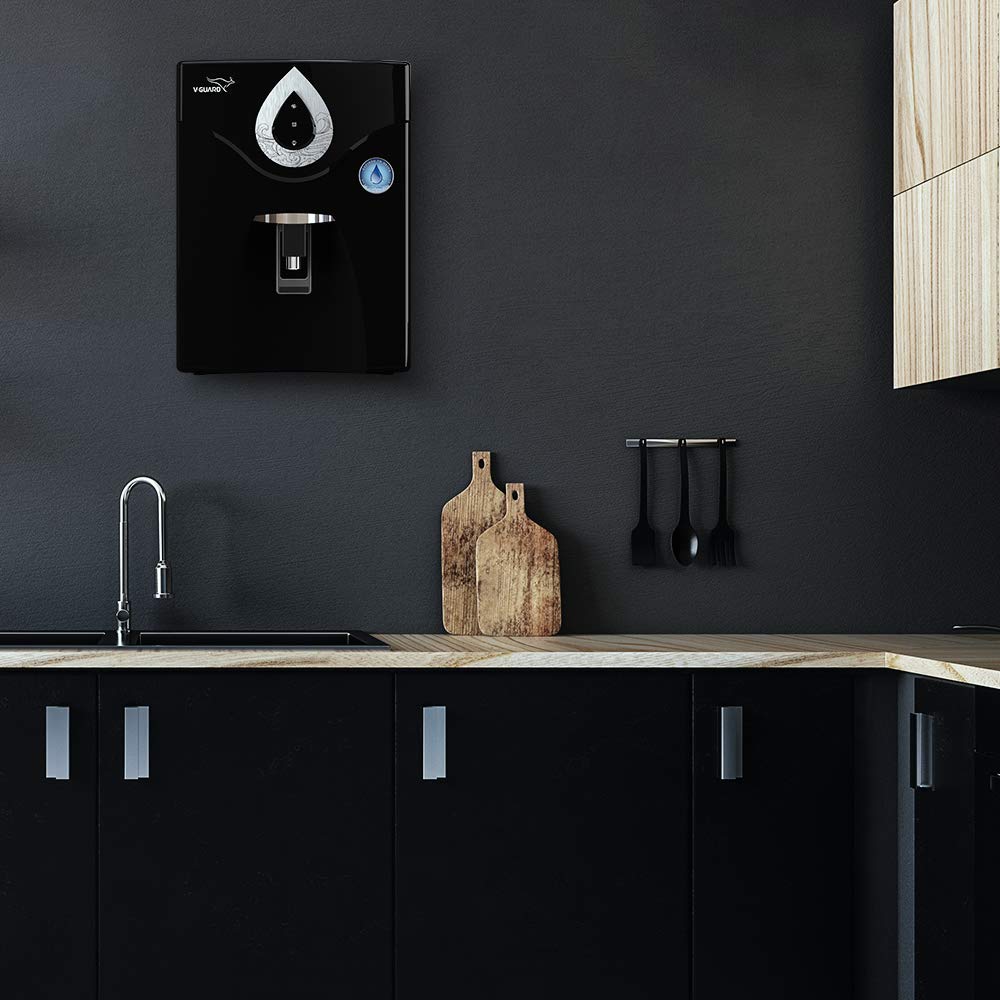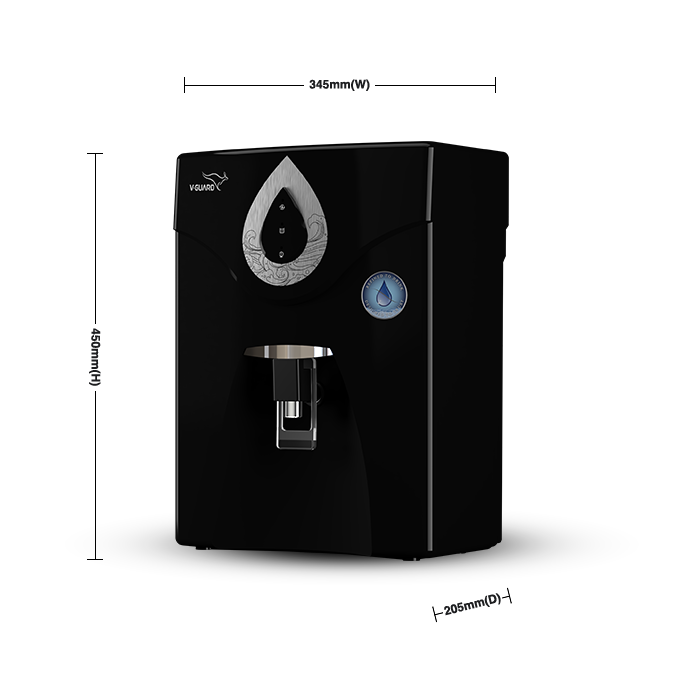 ZENORA RO + UF + MB
MRP : 13,049
Designed to last long in India's tough water conditions, ZENORA features an advanced multi-stage purification process along with a unique mineral balancer assuring you years of hassle-free and affordable access to 100% pure water that also tastes good and natural.
Promise of the Purest Water.
7 STAGE PURIFICATION - Long-Lasting Filters with World-Class RO Membrane and Advanced Hollow-Fiber UF Membrane
SUITABLE FOR BOREWELL, TANKER & MUNICIPAL WATER – Perfectly Treats Water with TDS up to 2000ppm
CONVENIENCE - 7L Large Storage Tank, LED Indicators, Wall Mount & Table top Installation
AFFORDABILITY ASSURED – Free Installation, Free External Pre-Filter, True One Year Comprehensive Warranty and Attractive AMC Plans
FORGET MAINTENANCE WORRIES - Pre-Emptive Maintenance Services, On-Call Support & Pan-India Service Network
Buy this product at :
Overview
Made for Indian Water Conditions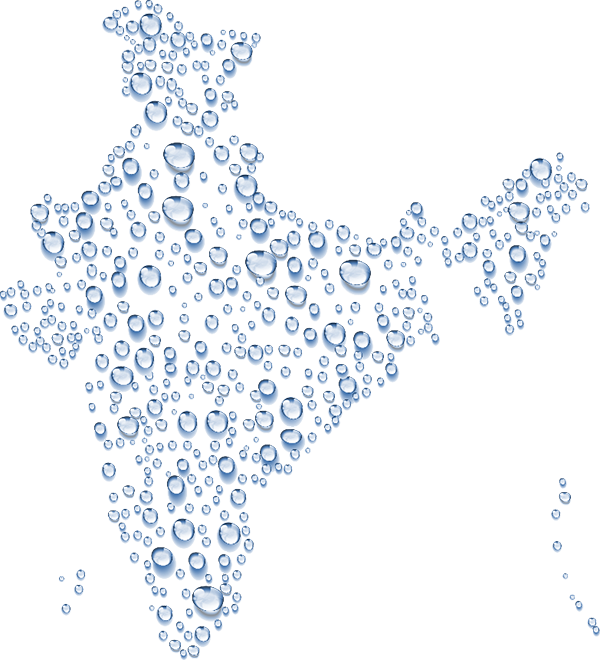 We understand Indian water conditions are unique, that is why our engineers put in years of research to make sure ZENORA has been perfected for them before it comes to you. Its intelligent design, combining world-class RO Membrane with effective multi-stage pre- and post-treatment, guarantees effective elimination of impurities commonly found in Indian water supply, and long-lasting performance with minimal maintenance hassles.
Designed with utmost precision, Zenora's multi-stage purification process is divided into three stages: Pre-RO Treatment, RO Treatment, and Post- RO Treatment. The first stage protects the sensitive RO Membrane by removing large and fine particles, suspended solids, bad odour, excess chlorine, and similar impurities.  The second stage comprising wide-surface RO Membrane - eliminates TDS (Total Dissolved Solids) and Heavy Metals. The third stage enhances the taste of the RO treated water with a unique calcite mineral balancer and provides an extra layer of protection against micro-organisms assuring of 100% safe and pure water.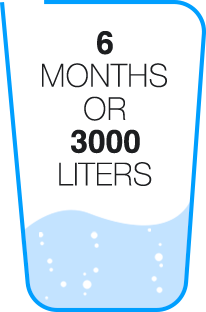 External Pre-filter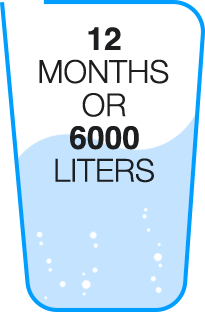 PreCarbon Filter (GAC), Sediment Filter, Ro Membrane, Post Carbon GAC, Mineral Balancer, Micron Filter, UF Membrane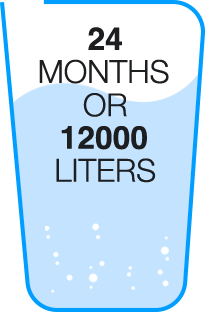 UV Lamp
Our careful composition of each filter ensures that filters complement each other to withstand the harshness of Indian water for much longer periods, thus, delivering sustained optimum performance and minimising the burden of frequent replacements.
Can treat water with TDS up to 2000 ppm

PPM
World-Class RO
Membrane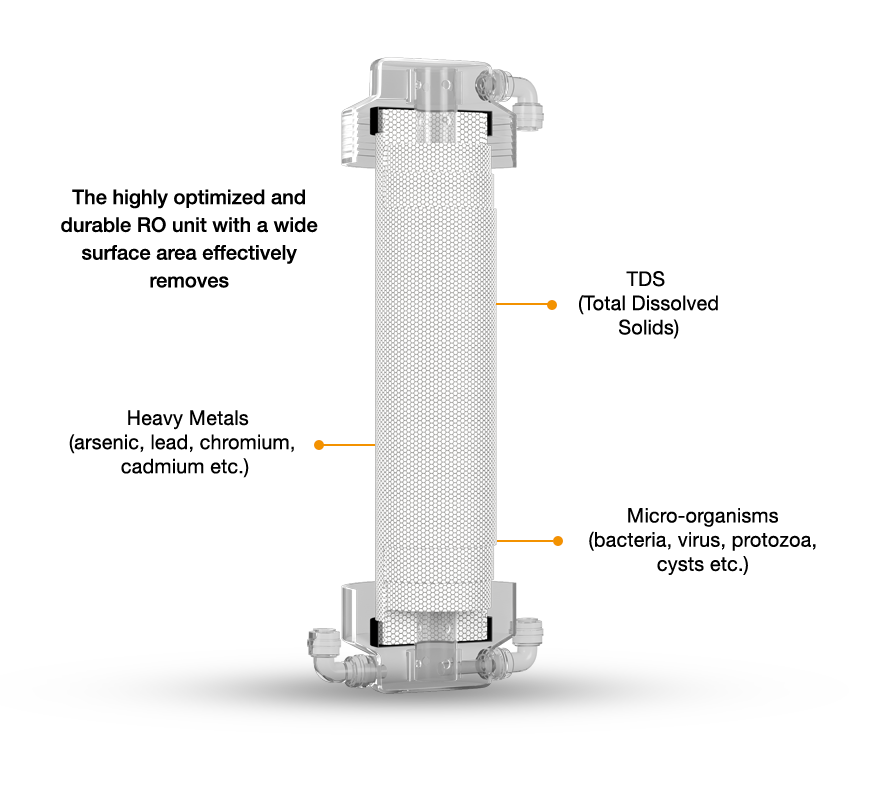 Made with the best-in-class technology, Zenora's RO membrane features a wide-surface area for higher productivity and reduced pressures. Backed with a robust pump, which is engineered together in precise balance, this highly optimized RO unit delivers long-lasting performance, effectively reducing TDS and eliminating heavy metals and micro-organisms from water.
Double Protection
with Advanced Hollow Fiber UF Membrane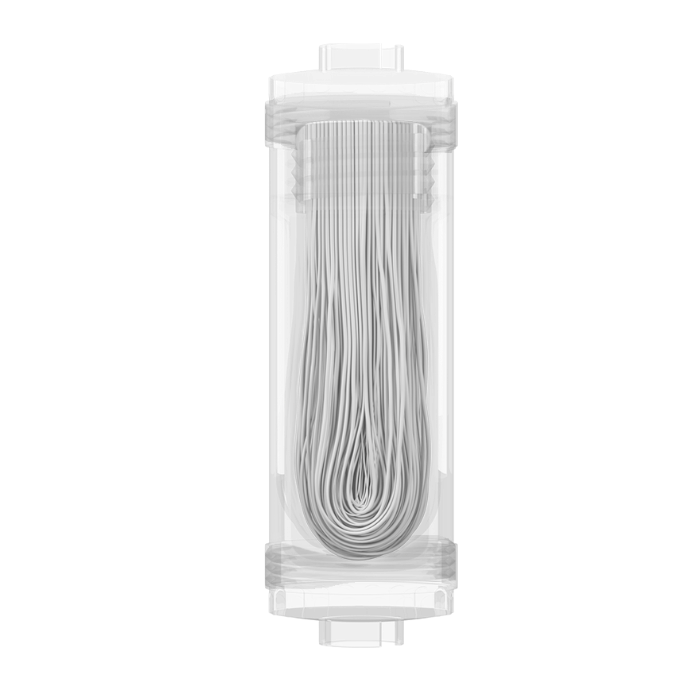 The extra layer of safety built through an advanced hollow fiber UF membrane filters out any remaining microbes, which might have sneaked out of earlier stages. Further, it polishes the filtered water to prevent any fine particles from entering the water storage tank.
Relive Natural Taste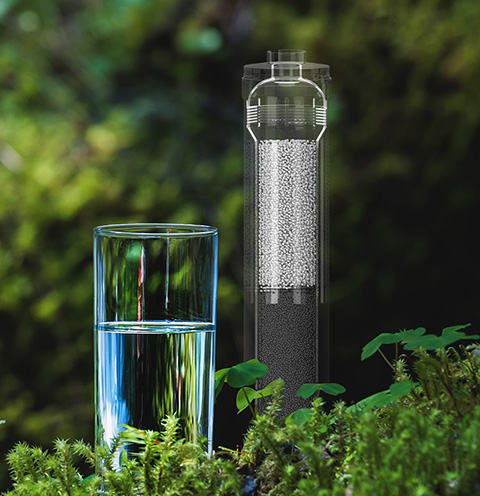 RO treated water is made to pass through a unique mineral balancer comprising the calcite media that neutralizes the acidic nature of the water by balancing its pH level, thus, ensuring healthier water that tastes so good and natural.
LED Indicators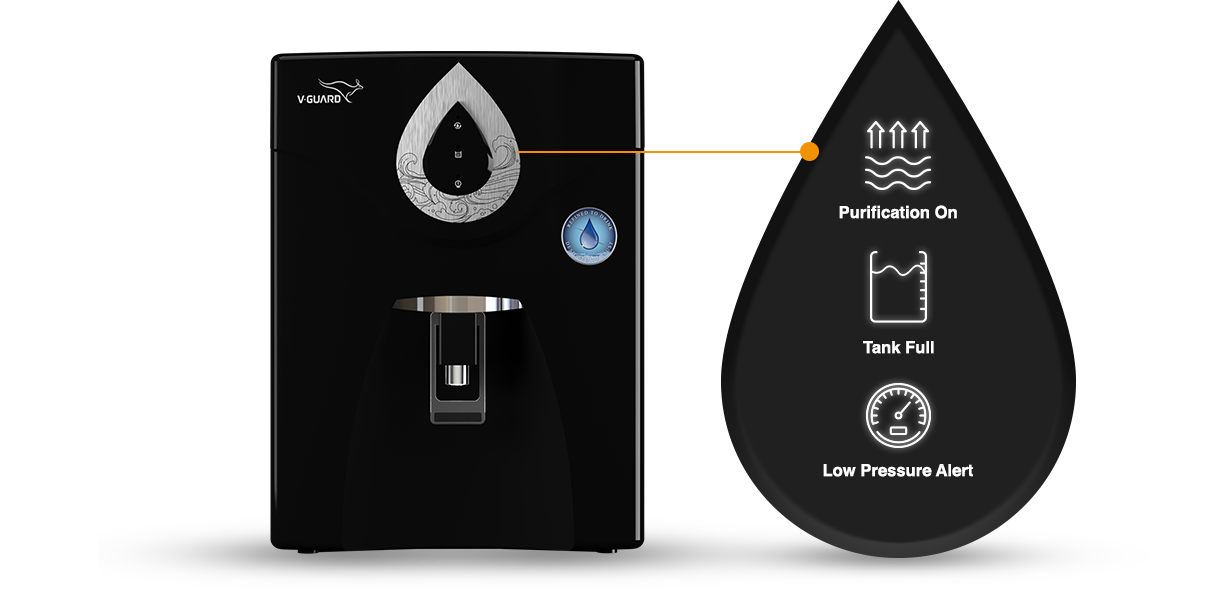 Equipped with 3 LED Indicators - 'Purification On', 'Tank Full' and 'Low Pressure' – to keep you informed about the health of the machine all times, so that there's no delay in accessing pure water at the right time.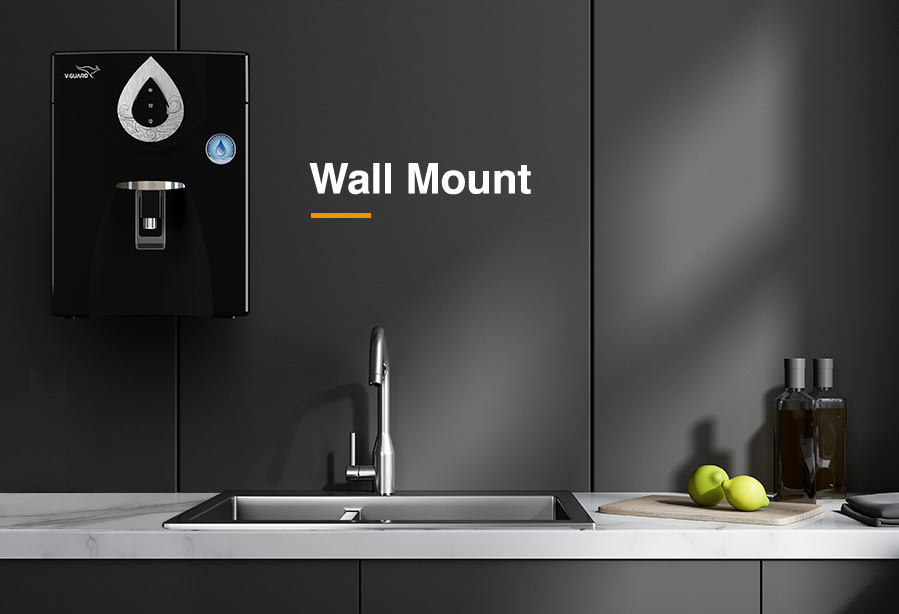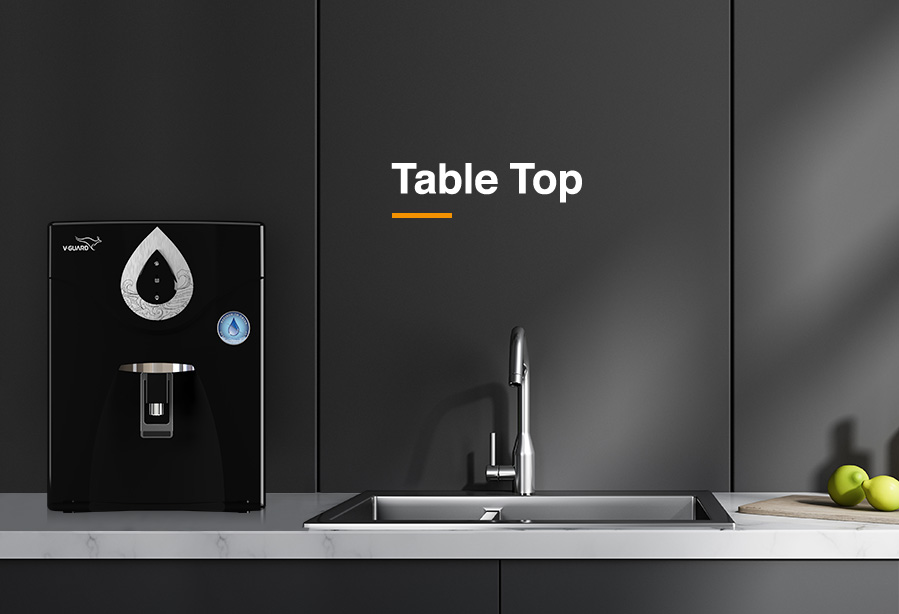 Mount on the wall or place on the counter, choose your preferred option and install Zenora the way you like – All it takes is one call.
Picture Perfect Purifier. Quite really!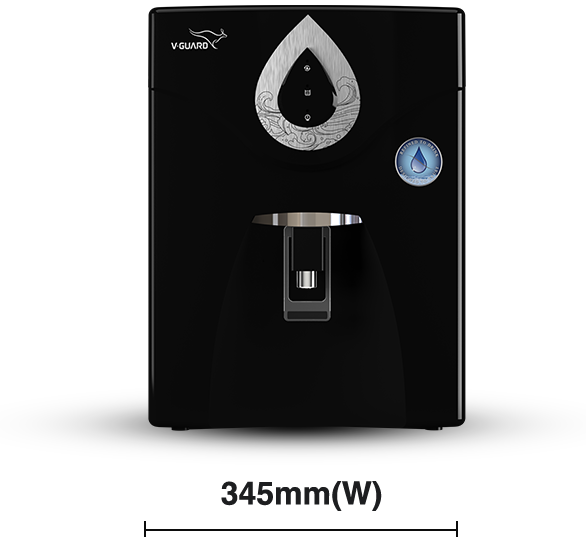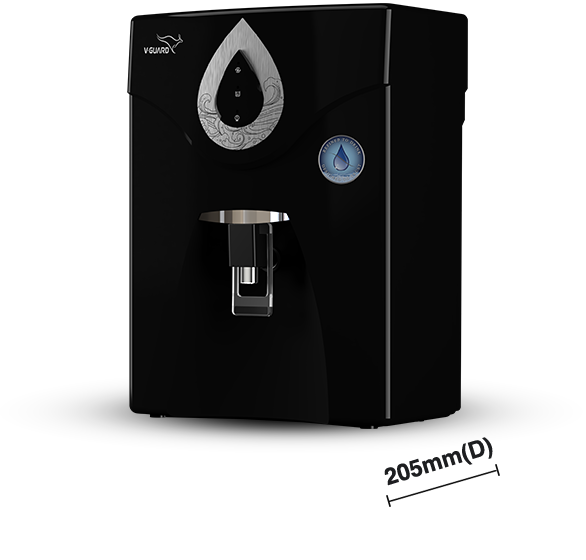 7L Large Storage Tank
Made of 100% Food Grade Plastic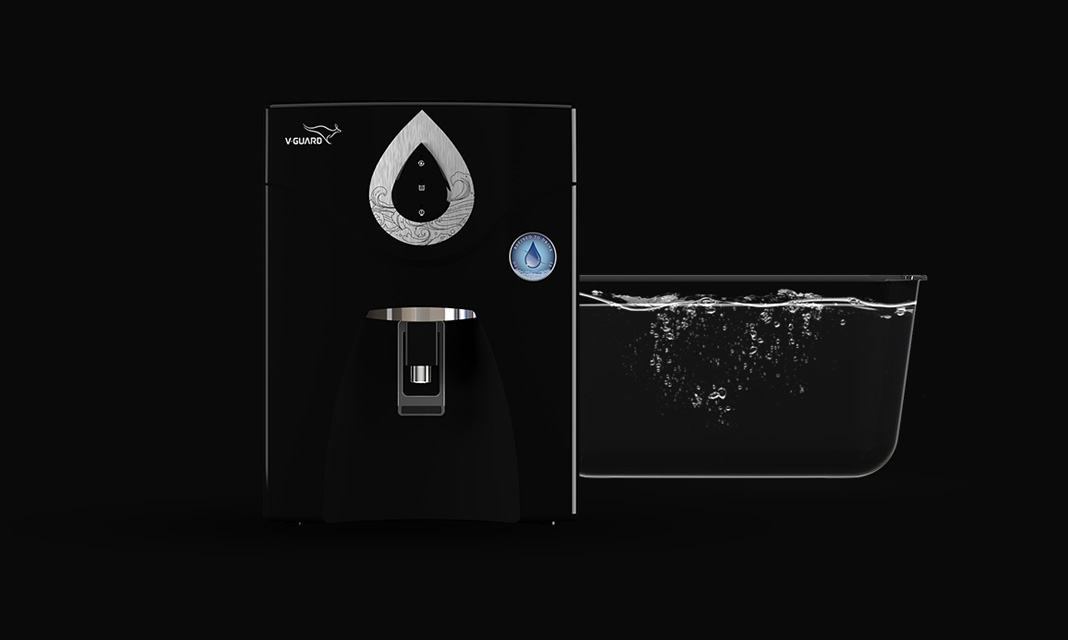 Ideal for large families, the 7L storage tank with 100% food-grade plastic keeps the water safe and helps you during unforeseen situations – such as long power cuts or a sudden extra need for more drinking water.
Highly Energy-Efficient
Consumes lesser energy than a tube-light

Why worry about the electricity consumption when your water purifier consumes less energy than a tubelight! A perfect cost effective solution to access pure water and safeguard you and your loved ones.
Specification
Specifications
Flow Rate, TDS Reduction and TDS Recovery rates may change depending on the pressure and quality of input water
Warranty & AMCs
True One-Year Comprehensive Warranty
Enjoy Benefits Worth ₹ 1,400/- & Risk Coverage Up To ₹ 8,695/-
Covers Filters, RO Membrane and Electrical Parts Worth ₹ 8,345/-
2 Pre-Emptive Maintenance Services Worth ₹ 700/- No need to worry about keeping a track of the service intervals. 
Learn more
Free Replacement of 2 Pre-Filters Worth ₹ 700/-
Free Re-Installation
Worth ₹ 350/-
No Additional Charges for Service Visits Worth ₹ 350/- per visit (In case of any failure or repair assistance)
On-Call
Pan India Support
Installation & Service
Free Installation With Pan India Service Support



*Select Cities Include – Delhi/Mumbai/Chennai/Hyderabad/Kolkata/Bangalore/Kochi/Pune
How to Avail Your Free Installation or
Schedule a Maintenance Service

Receive A Call
Receive a call from our team in 48 hours. Or else give us a call on 1800-103-1300 or write to us at waterpurifier@vguard.in once you have received the product

Visit by Technician
Our team will note down your details and schedule a visit of our trained technician at a convenient time

Important Pre-Requisites
Click here to know about certain important pre-requisites required before the product's installation
FAQ's
FAQ's
Are Zenora Water Purifiers available on Amazon and Flipkart?
Yes, V-Guard sells it on both Amazon and Flipkart through its official seller profiles - Amazon [VGuard Industries Ltd (Official)] and Flipkart [VGuardIndustriesLtd]. Please click on the below links to view and purchase
Can I meet your representative and purchase it directly from V-Guard?
Yes, currently we offer that service in select cities. Soon we will be expanding it to all the Indian cities.
Please contact us by clicking here and our team will connect with you shortly in this regard.
Is the installation free?
Yes, V-Guard provides free of cost installation across India for all its water purifiers.
How do I raise the installation request?
You may raise the installation request through any of the following modes within 30 days from the delivery of the Water Purifier:
Website: www.vguard.in/waterpurifier
Phone: 1800 103 1300 (TOLL FREE) | 1860 180 3000 (TOLL)
E-mail: waterpurifier@vguard.in
What are the pre-requisites for free installation?
Here are some of the important pre-requisites for installation
The installation area must be safe for workmanship and product usage. Adequate lighting must be provided on the site.
The installation area must be easily accessible. Above man-height locations such as above-the-ceiling or outside the kitchen are not acceptable.
The old water purifier, if any, should be easily dismountable. While dismounting the old water purifier, if anything gets damaged then V-Guard could not be held responsible.
The free installation kit that comes along with the main unit consists of User Manual, External Pre-Filter, Wall Mounting Kit, 3/8 White Tube, ¼ White Tube, SMPS Adapter, Integrated Diverter Valve and RO Membrane. In case anything else is required for installation, it will have to be purchased separately.
Input Water TDS should not exceed 2000ppm (maximum limit) while its pressure should be between 5 to 40 psi. If it is not so, you will require additional solutions otherwise it will affect your product's performance. These additional solutions can be purchased from V-Guard technicians at extra cost.
An operational power source and water source must be available in the proximity of the installation area.
The user must be able to furnish a valid proof of purchase i.e. original invoice copy
Please click here to view detailed terms & conditions for Installation
How long is the warranty coverage?
V-Guard offers one-year comprehensive warranty coverage for all its water purifiers.
What is covered in the warranty?
One-year comprehensive warranty covers the following:
Repair or replacement of any functionally effective part of the Water Purifier found defective within 12 months from the date of its purchase ("Warranty Period").
Two preventive maintenance visits by V-Guard on free of cost basis, during the warranty period.
Two Pre-Filters will be changed on free of cost during the first year i.e. pre-filer will be changed in 5th month and 11th month.
No charges for the technician visit in case of failures or repair assistance.
One time Free-reinstallation support for the water-purifier unit.
The Product is intended to be used exclusively for domestic/ residential purpose only.
Please click here to view detailed terms & conditions for warranty
How will I get service/ spare parts for my water purifier post Warranty? Do you provide AMC?
Yes, we offer range of affordable AMC plans which help you to continue enjoying the same superior services beyond warranty as well. Please click here to view our AMC Plans
Does V-Guard have a Pan-India service network?
Yes, we have a pan-India service network 1200+ trained technicians, 235+ Authorized Service Centres and Direct Service in 7 Metros
How do I contact V-Guard support team in case of any query or any service/maintenance related requirements?
Please feel free to reach out to us through any of the following mediums
Toll Free: 1800 103 13000 | Toll: 1860 180 3000 | Email: waterpurifier@vguard.in
Which all consumables/filters of Zenora Water Purifiers require replacement and with what frequency?
You need to clean/replace Sediment Filter approximately every 6 months from the date of installation based on the input water quality conditions and other consumables approximately every 1 year from date of installation.
| | |
| --- | --- |
| Consumables Filters | Estimated Life (Whichever occurs earlier) |
| External Pre-filter | 6 - Months or 3000 L |
| Pre Carbon Filter (GAC), Sediment Filter, RO Membrane Post Carbon GAC, Mineral Balancer, Micron Filter, UF Membrane | 12 - Months or 6000 L |
| UV Lamp | 24 - Months or 12000 L |
Can I service Water Purifiers on my own?
It is not recommended to open your water purifier and service it on your own. Call V-Guard customer support centre for any issues related to service & opening the machine.
What should I do if there is a leakage from the water purifier?
In case leakage is observed from inside of the water purifier, switch off the purifier. Call V-Guard customer support number and register for service request.
What should I do if there is no water in the storage tank?
Please ensure proper power & water supply to the purifier unit. If the problem persists, please call V-Guard customer care support number.
Is Zenora Water Purifier suitable for Borewell Water/ Ground Water/ Municipal water?
Yes, Zenora Water Purifiers are suitable for Borewell Water / Ground Water/Municipal Water, however the maximum TDS range is up to 2,000 ppm.
What is its underlying purification technology?
Zenora Water Purifiers are available in two variants RO+UV+MB and RO+UF+MB.
Both variants feature world class RO Membrane and state-of-the-art filters that together form a multi-stage advanced purification process to effectively eliminate micro-organisms, organic & chemical impurities and other similar impure substances so commonly found in Indian water supply. A strong Pre-RO stage comprising of external pre-filter, anti-microbial pre-carbon GAC filter and sediment filter pre-treats the water before it enters the sensitive RO membrane thus protecting it and enhancing its life. In the Post-RO Stage an extra layer of protection is provided through Next generation UV chamber or Hollow Fiber Advanced UF Membrane, while the unique calcite media balances the pH levels of the RO treated water thus reviving its natural taste.
Can it remove arsenic, fluoride and nitrates?
Yes, Zenora water purifiers come with a world class RO membrane that can effectively remove arsenic, fluoride and nitrates along with many other impurities so commonly found in Indian water supply.
What is its output water TDS?
The output water TDS of any water purifier purely depends on the input TDS level. Please contact us, and we will arrange a visit of our service technician who will measure the input water TDS at your home and accordingly advise the output water TDS.
Is it inverter compatible?
Yes, Zenora Water Purifiers are inverter compatible.
Is it made from BPA Free Plastic?
Yes, Zenora Water Purifiers are made using BPA Free Plastic.
Does it come with an External Pre-filter? Is it free?
Yes, Zenora Water Purifiers come with an External Pre-filter which is provided at no extra cost.
How much time does it take to purify water?
Zenora Water Purifiers usually take 20 min to purify the water under standard conditions. However, the actual performance may vary depending on the quality of input water.
What is its output flow rate?
The flowrate is 10-12 L per min for Zenora RO+UF+MB and 10-15 L per min for Zenor RO+UV+MB.
Can I draw water from it when there is no electricity?
Yes, Zenora Water Purifiers come with 7 L storage capacity, hence the water can be drawn even when there is no electricity.
How long can the water in the water purifier be used for drinking?
You can use stored water for up to 48 hrs. If it is not used for 48 hr, we advise you to discard that water, refill and consume.
What does TDS mean?
TDS stands for total dissolved solids, and represents the total concentration of dissolved substances in water. TDS is made up of inorganic salts, as well as a small amount of organic matter.
What is Reverse Osmosis (RO)? How does it work?
Reverse Osmosis (RO) is a water treatment process that removes contaminants from water by using pressure to force water molecules through a semipermeable membrane. During this process, the contaminants are filtered out and flushed away, leaving clean, delicious drinking water.
What is Mineral Balancer? Does it improve taste of water?
Mineral Balancer is pH balancer with taste enhancer. It maintains right balance of pH in water from RO membrane and enhances the taste with mineral media. The cartridge needs to be replaced every 1 year.
Can I use the water rejected by the water purifier?
It is not recommended to use the reject water for any kind of human/pets consumption or contacts (drinking or cooking or bathing). It may be used for gardening or mopping floors.
Buy